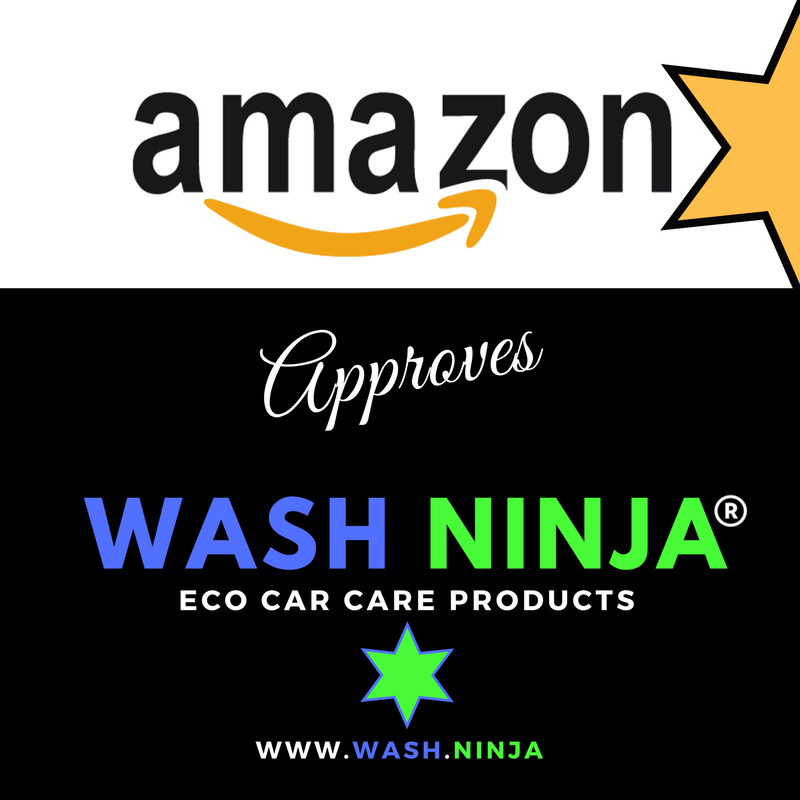 JACKSONVILLE, Fla. – Oct. 19, 2017 – PRLog — Wash Ninja®, a registered trademark of Wash Ninja, Inc., recently completed their first car care manufacturing run of two ECO-friendly products. The green-friendly startup received approval to offer their innovative non-toxic and biodegradable waterless car wash + wax products in the highly selective automotive category on the #1 ecommerce website, Amazon.
Consumer customers of Wash Ninja® will receive the benefits of excellent customer service, fast shipping, and fulfillment by Amazon. Wash Ninja® will directly provide customer support on product questions and feedback required to consumers in all 50 U.S. states. The startup recently acquired Dial dot Ninja (www.dial.ninja) that will take customers directly to the Wash Ninja® contact page. Auto detailing customers will be able to purchase products at service.  Retailers and distributors will receive customer service, shipping, and product support directly from Wash Ninja®.
A series of videos have been created on the car care product features and how-to videos. Consumers can learn online about the products and how to perform a waterless car wash, or how to perform a eco wash by watching the videos on the official Wash Ninja® website and social media channels including YouTube.
The startup will offer two tested and proven waterless car wash and wax products named EcoWash and EcoSpray to be available in 16 oz. (473 ml) bottles.  Both ECO-friendly products combine a unique blend of cleaning agents, carnauba wax and polymers that work effectively to shine and protect.  After completing hundreds of green-friendly auto detailing services, Wash Ninja® has put their 5-star service in a bottle with more products coming over the next 24 months.
Wash Ninja® EcoWash Waterless Wash + Wax Concentrate (barcode 6-53829 93789-9), an innovative hose-free car wash for all vehicles is an easy to use waterless car wash and wax.  The concentrate dilutes 1-2 ounces of Wash Ninja® EcoWash to 10 parts water in a spray bottle. Wash Ninja® EcoSpray Waterless Wash + Wax RTU (barcode 6-55295 76011-7) is a ready to use waterless wash and wax for all vehicles without mixing or diluting.
The eco-friendly startup recently crossed 60,000 social media fans, and has received consistent 5 star reviews since offering their waterless wash + wax auto detailing service 19 months ago on all types of vehicle conditions.  Compared to a standard hose wash that uses up to 100 gallons of water with a 10 minute car wash, the organization saves an estimated 70,000 gallons of water annually delivering a spot free car finish.
Committed to the environment, customer service, and car care product quality, Wash Ninja® is introducing to the car care industry products that are tested and proven that deliver the highest quality results in car care cleaning.
The mission of Wash Ninja® is to use less natural resources, minimizing the strain on the environment with green-friendly products and services.  The company maintains a strong commitment to reuse, reduce, and recycle as part of their eco-friendly commitment.
Visit the company website at https://www.wash.ninja to learn more.
About Wash Ninja, Inc.
Wash Ninja® serves the planet and autos with green-friendly waterless car wash and eco-car care products, automotive detailing services, and eco apparel.