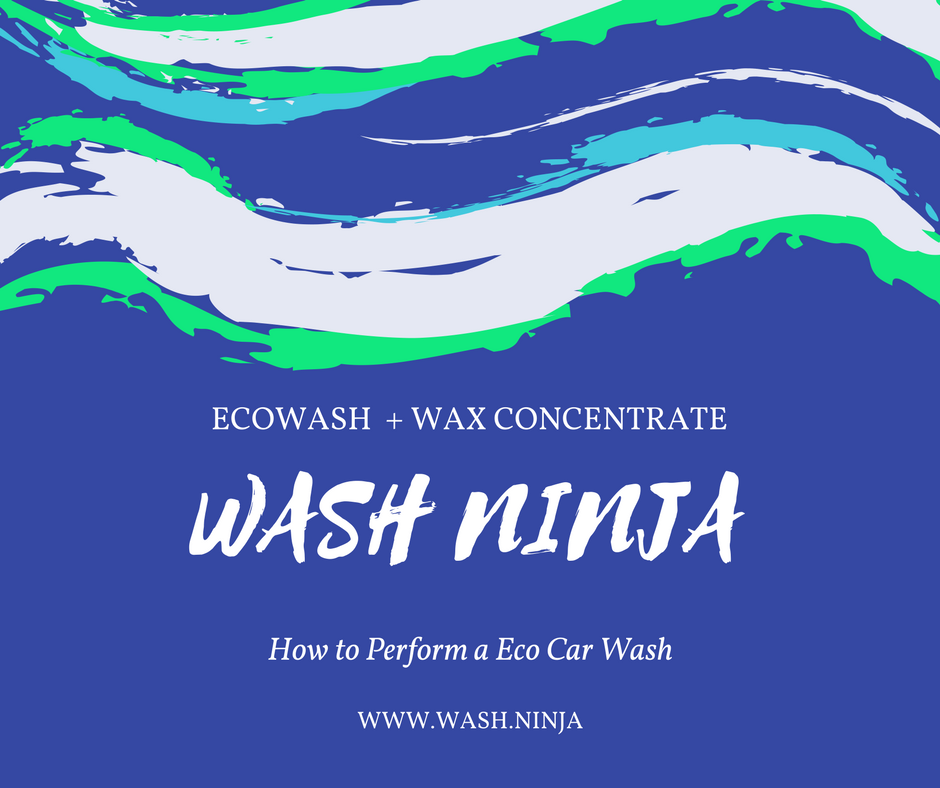 How to Safely Perform a Hose-Free ECO Car Wash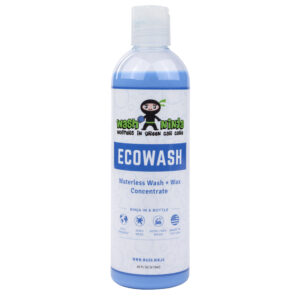 One 16 ounce bottle of Wash Ninja® EcoWash can do up to 25 car washes.  After performing hundreds of waterless wash details and receiving all 5 star service reviews, we put our service into a bottle.  EcoWash is a Waterless Wash + Wax Concentrate mixes 1 part EcoWash concentrate (1-2 oz.) with 10 parts water in a spray bottle.  Pre-rinse vehicles covered in dirt, mud, or sand.  The product can be applied on dry or wet surfaces. Our eco car wash is non-toxic and biodegradable.  Below are step-by-step instructions on how to perform an ecowash easily and safely.  It can be done a few ways with minimal water with or without a hose.

Buy EcoWash + Wax Concentrate on Amazon
Wash Ninja® waterless car wash products safely lift dirt away from paint scratch free
Professional look in minutes with no mess
Formula controls water spots
Conserves up to 100 gallons per wash compared to a hose method
Eliminates run off
Easily clean any car, truck, motorcycle, and more
Apply outside, or inside a garage
Protects exterior with UV protection
Non-toxic and biodegradable formulas breakdown contaminants quickly and effectively
Layer of protective polymers leave a smooth protected finish
Meant for cars with light to moderate road grime
Pre-rinse if vehicle is covered in dirt, mud, or sand
Product can be applied on wet or dry surfaces

Dilute 1 part EcoWash concentrate (1-2 oz.) with 10 parts water in a spray bottle.

You'll need two microfiber towels. The first for cleaning and second for polishing

Fold towels in half twice giving you 8 sides to work with

Work one panel at a time

Using light strokes going, wipe front to back with the first towel

You can apply more pressure on follow up strokes once contaminants have been removed

Using your second, gently buff surface to remove additional formula while also spraying the formula you will find surface is left smooth, glossy, and with a wax like finish

Wheels are easily cleaned by simply spraying and wiping

When cleaning glass, less is more – a small bit of formula and a dry microfiber towel goes a long way

We suggest working top of vehicle downward. Leaving lower body panels for last as they tend to accumulate most dirt

For more heavily contaminated vehicles, EcoWash can be mixed with 1-2 oz. to 3-5 gallons of water in a bucket and applied with a microfiber wash mitt and then dry with a microfiber towel when needed

If your wash towel becomes heavily soiled, simply switch to fresh towel for best results

Performing a waterless car wash is a safe, easy, and effective way to get professional results without the mess in just minutes
If you have any questions, feel free to call or contact us here.