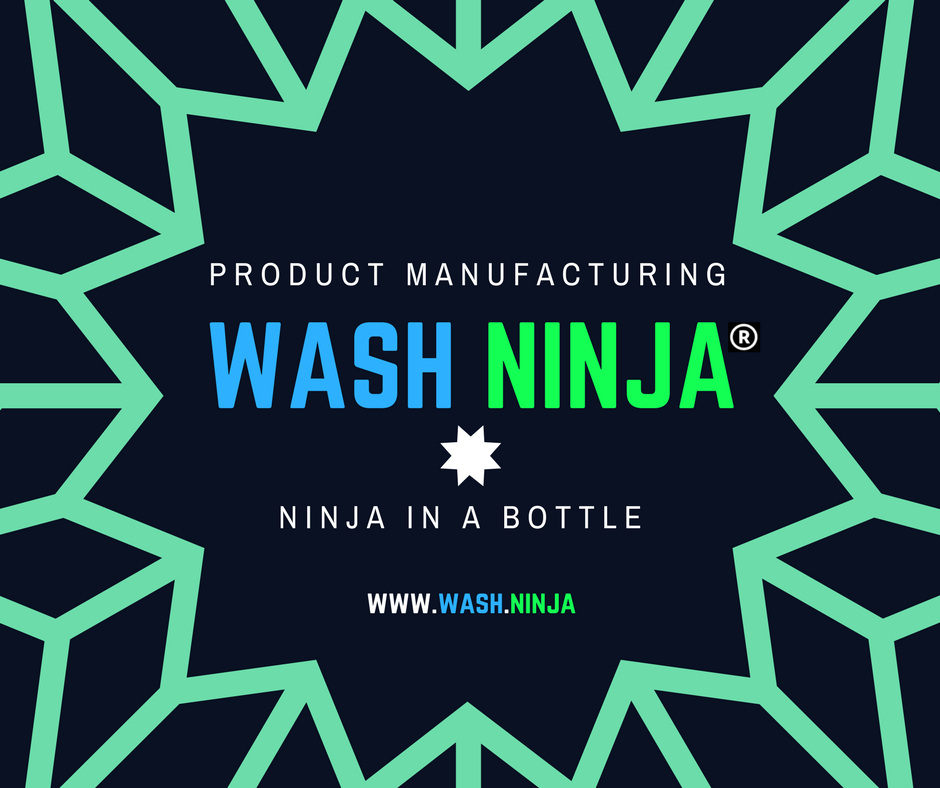 JACKSONVILLE, Fla. – Aug. 31, 2017 – PRLog — The organization recently named two green-friendly waterless wash and wax products set to be released to the automotive detailing and car care industry.  Wash Ninja®, a registered trademark of Wash Ninja, Inc., has secured bar codes, approved product label designs, and bottle manufacturing has officially begun.  The non-toxic and biodegradable eco-friendly products will be available to consumers, resellers, and retailers throughout the United States.
The company has two unique hose-free eco-car wash products that save up to 100 gallons per wash.  Wash Ninja® has been providing professional waterless wash auto detailing services since start-up over the last 17 months receiving consistent 5-star reviews. The organization has provided hundreds of eco-vehicle details since opening and seeks to expand the positive impact of water conservation and outstanding results their spot-free hose-free method provides.
Wash Ninja® will offer these tested and proven waterless car wash and wax products named EcoWash and EcoSpray to be available in 16 oz. (473 ml) bottles. A concentrate and ready to use (RTU) mixture will be offered. The products contain a unique blend of cleaning agents, carnauba wax and polymers that work effectively to shine and protect. The products clean and protect paint, windows, trim, plastic, wheels, and more.
Wash Ninja® has quickly gained local support in their hometown of Jacksonville, FL, and with social media fans everywhere.  The company has crossed 50,000 social media fans with their green-friendly auto detailing services. The bootstrap start-up is self-funding the product line without support of investors.  Wash Ninja® has plans to release several more green-friendly car care products over the next 24 months.
The results and excitement is incredible.  We believe the market is ready and the time to put our service in a bottle is now, says Cory Sinclair, Founder and President.  Wash Ninja® recently acquired the Dial dot Ninja domain for nationwide marketing and customer service.
Wash Ninja® is setting up online ordering and product fulfillment including pick/pack, and shipping.  Professional product photography has been scheduled and the company will next release product availability and official pricing.  The company website is being redesigned for direct product purchasing.
The Wash Ninja® company website operates with Secure Sockets Layer (SSL) at the point of visitor entry, a standard security technology establishing an encrypted link ensuring that all data passed between web servers and browsers remain private.  A Secure Validation Seal can be confirmed here and is on the Wash Ninja® website allowing website visitors to confirm the SSL.  As with any secure website, visitors can verify security in the address bar, which includes "https" before the website URL.
Learn more and register to be notified of product releases by visiting the company website at https://www.wash.ninja/.
About Wash Ninja, Inc.
Wash Ninja® serves the planet and autos with green-friendly waterless car wash and eco-car care products, automotive detailing services, and eco apparel.