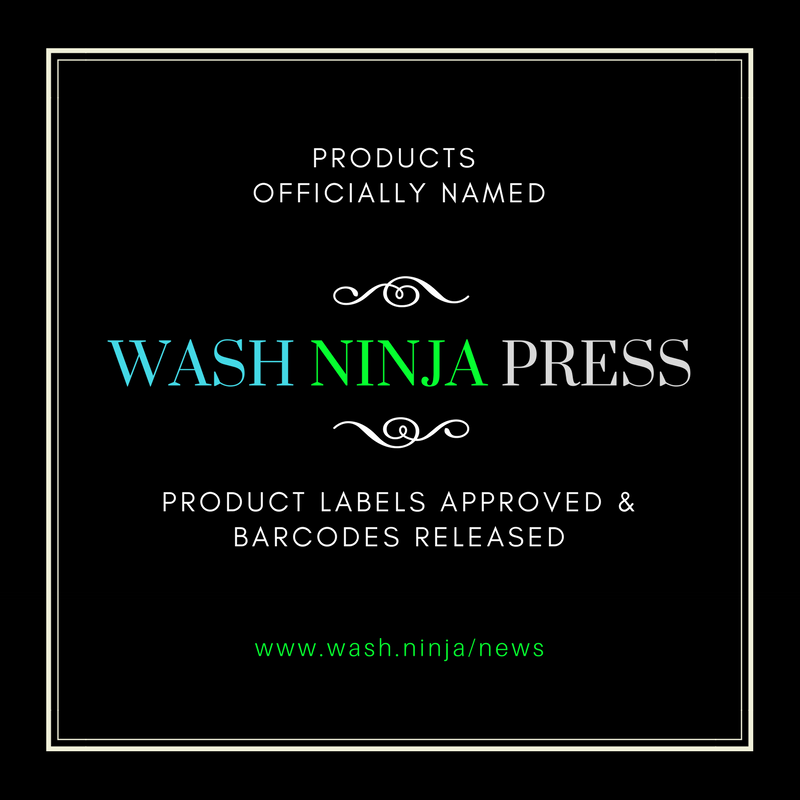 JACKSONVILLE, Fla. – July 27, 2017 – PRLog — Wash Ninja®, a registered trademark of Wash Ninja, Inc., 5 star rated green-friendly auto detailing startup has officially named their first two eco-friendly car care products. The company has been working over the past year to enter the automotive car care industry and is nearing their debut.  Product names have been officially named, product label designs approved this week, and barcodes acquired. The organization also recently approved solution colors and product fragrances.  The eco-friendly products are a hose-free wash with zero mess Made in the USA.
The premium green-friendly auto detailing services the organization currently provides save an estimated 70,000 gallons of water per year doing only two vehicles daily. The positive impact to the environment will increase significantly with the Wash Ninja® ECO product line to be sold throughout the United States.
The company will offer two tested and proven waterless car wash and wax products named EcoWash (www.ecowash.ninja) and EcoSpray (www.ecospray.ninjawww.ecospray.ninja) to be available in 16 oz. (473 ml) bottles.  After completing hundreds of green-friendly auto details, Wash Ninja® has put their 5-star service in a bottle.  The organization donates a portion of all sales to their planet partners.
Wash Ninja® EcoWash Waterless Wash + Wax Concentrate (barcode 6-53829 93789-9), an innovative hose-free car wash for all vehicles is a one-step car wash and wax.  The concentrate dilutes 1 oz. of Wash Ninja® EcoWash to 10 parts water in a spray bottle. It combines a unique blend of cleaning agents, carnauba wax and polymers that work effectively to shine and protect.  One bottle of EcoWash cleans up to 25 car washes leaving a UV protected finish.  The product cleans and protects paint, windows, trim, plastic, wheels, and more. Excessively contaminated vehicles may be pre-rinsed, and/or dilute 1-2 oz. of concentrate to 3-5 gallons of water and wash with a microfiber mitt and wipe dry with a microfiber towel.
Wash Ninja® EcoSpray Waterless Wash + Wax RTU (barcode 6-55295 76011-7) is an innovative ready to use car wash for all vehicles without mixing or diluting.  The product provides a mirror like finish with UV protection by simply spraying one panel at a time on vehicles and wiping clean with a microfiber towel.  For more contaminated surfaces, vehicles can be pre-rinsed with Wash Ninja® EcoSpray.
The company recently acquired the Washololgy dot Ninja domain (www.washology.ninja) as a learning center for green-friendly car care learning, and redirects to the official company website.  Wash Ninja® will provide new product videos along with car care information and articles on their website and social media channels that currently reach over 50,000 fans.
The products will be offered for sale online and through channel partnerships in the United States. Further details on availability will be released upon offering.
The mission of Wash Ninja® is to reduce the strain on the environment by providing green-friendly products and services.  The company emphasizes a strong commitment to reuse, reduce, and recycle as part of their eco-friendly commitment.
Visit the company website at https://www.wash.ninja to learn more.
About Wash Ninja, Inc.
Wash Ninja® serves the planet and autos with green-friendly waterless car wash and eco-car care products, automotive detailing services, and eco apparel.