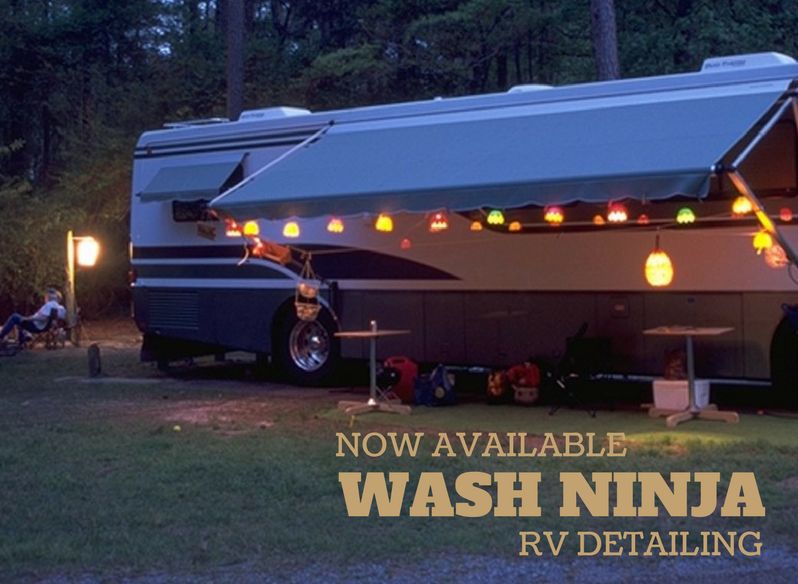 JACKSONVILLE, Fla. – March 31, 2017 – PRLog — Wash Ninja, Inc., Masters in Mobile Green Car Shine, shortly one year after opening is offering professional 'Green-Friendly' mobile recreational vehicle (RV) detailing & protection services throughout Jacksonville, FL along with continued 'Eco-Friendly' residential and company fleet services.
5 Star Rated Wash Ninja® offers a customer service toll-free hotline at (844) WASH JAX (844-927-4529)  for support and questions. The 'Green-Friendly Startup' further solidified a name stake in the ECO world last year acquiring the domain GreenFriend.ly, which redirects to the official Wash Ninja® company website.  The organization has recently made the list of Top 100 Twitter accounts based on followers in Jacksonville, FL early this year and has over 45,000 social media followers.
Wash Ninja® donates to their 'Planet Partners' with every purchase to support a cleaner Jacksonville and Planet.  Doing more together with the local community provides a greater good for the environment and everyone.  The company saves an estimated 70,000 plus gallons of water a year and will add to that with premium mobile RV Detailing Packages.
The company recently purchased powerful energy efficient equipment with over 10 hours of continuous run time. Wash Ninja® does not use large trucks, trailers, or transport large water tanks. After receiving all '5 Star Reviews' for their services to date, RV detailing services will continue to operate in the same manner with less is more and guaranteed service.
The organization has videos for new website visitors to learn more about their 'Green-Friendly' mobile RV detailing services on the company website. Services for RV detailing include standard RVs, campers, mobile homes, and motor homes.
Wash Ninja® provides a safe and secure website environment backed by the latest 'Secure Sockets Layer' (SSL) and a 'Secure Validation Seal' has been placed on the Wash Ninja® website allowing website visitors to confirm the SSL.  Wash Ninja® website visitors can also verify security in the address bar, which includes "https" before the website URL.
The company and detailing practices include a 100% environmentally conscious effort from all aspects of water consumption, energy efficiency, and powering equipment with minimal strain on the environment.  The Wash Ninja® mission is to Reuse, Reduce, and Recycle as part of their 'Eco-Friendly' commitment.
Visit the official company website at www.wash.ninja (http://www.wash.ninja/rv) to learn more.
# # #
About Wash Ninja, Inc.
Wash Ninja, Inc. serves the planet and autos with 'Eco-Friendly' energy efficient and hose free mobile auto detailing services to 'Residential' and 'Company Fleets' in Saint Johns County and the Jacksonville, FL metro area.